2017 TOYS FOR TOTS CAMPAIGN

We collected:
26,832 toys,
We distributed:
31,095 toys (includes carryover from 2016 distributed in 2017).
Our carry-over inventory for early November 2018 distribution to community relief organizations is:
10,916 toys
Children receiving toys:
6,709
We had over 300 community volunteers to help us receive and sort toys.In 2017

---
2016 TOYS FOR TOTS CAMPAIGN

We collected:
27,589 Toys,
We distributed:
29,271 toys.
Our carry-over inventory for early November 2017 distribution to community relief organizations is:
12,619 Toys
We had 271 businesses and other organizations sign up to collect toys.
We had 337 community volunteers to help us receive and sort toys.In 2016

| | |
| --- | --- |
| | Video by TfT Co-Coordinator Rita Sartori |
---
Detachment Coordinators Win Marine Corps Toys for Tots Foundation Award
The results are in! After completing internal audits and sorting through the 782 sites participating in the 2015 Toys for Tots Campaign, the Marine Toys for Tots Foundation has selected the national and regional campaigns and coordinators of the year, and the Region 2 winner is the Loudoun Marines LCO, under direction of Coordinator Frank Holtz and Co-Coordinator Rita Sartori. Bravo Zulu. You do us proud.

---
2015 TOYS FOR TOTS CAMPAIGN

| | |
| --- | --- |
| | Video by TfT Co-Coordinator Rita Sartori |
From a letter to the editor by TfT Co-Coordinator Frank Holtz:
In 1947, a group of Marines recognized a need in this country and found a way to fill it. The Toys for Tots program's main purpose is to "bring the joy of Christmas to America's less fortunate children." Receiving the gift of a shiny, new toy (something many take for granted) can make a tremendous difference in child's life.This year, the Loudoun County Marine Corps League's Toys for Tots program distributed more than 23,000 toys to area families and non-profit organizations. Two Juniors at Briar Woods High School in Ashburn conducted a bike drive resulting in 62 bicycles and helmets being donated to Toys for Tots, which made many children happy.

This program wouldn't be successful without our volunteers, the generosity of area families, and businesses/organizations.

A special thank you goes out to Merritt Properties, LLC, which donated warehouse space where we collected, sorted, and distributed toys. It is important to note, that each year we are tasked with locating a space for our operation.

To provide non-profit organizations with toys in time for their Christmas distribution, we must provide them toys by mid-November. Therefore, there has to be an inventory on hand, as we don't receive community/public donations until mid-December. Sorting and storing of this inventory takes place after Christmas and into January.
We are already planning for our next season which begins October 1st and would welcome assistance. If you would like to help with the 2016 Toys for Tots program, please email us in October at Toys4TotsLoudoun@gmail.com.


---
2014 TOYS FOR TOTS CAMPAIGN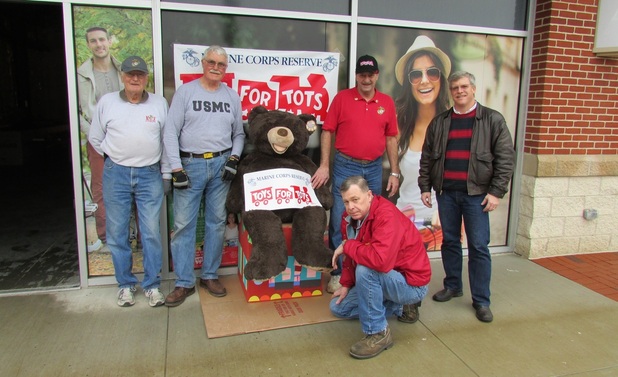 Kickoff for the campaign was the Leesburg, VA Halloween Parade and completion was the final administrative and cleanup details in mid-January, 2015. This also included transporting the remaining toys to a permanent storage facility for early use during the 2015 campaign. Members of the detachment and their families along with 243 non-MCL volunteers collected and processed 27,831 toys, 138 bicycles and approximately $5,890 in donations for the 2014 campaign. Distribution of the toys went to non-profit/charitable organizations (13,637), individual families (4,982) and support to the Winchester, VA MCL detachment 890 (11,339).

---
---
PICTURES FROM 2014 TOYS FOR TOTS ACTIVITIES

TOY COLLECTION AT EVENTS

RECEIVING TOYS AT THE PROCESSING CENTER

TOY SORTING AND PACKAGING AT THE PROCESSING CENTER, FEATURING MANY OF OUR VOLUNTEERS

TOY DISTRIBUTION

THE LAST ACT: MOVE OF TOYS TO CAPITAL MECHANICAL WAREHOUSE TO STORE FOR NOVEMBER, 2015 DISTRIBUTION

---
2013 TOYS FOR TOTS CAMPAIGN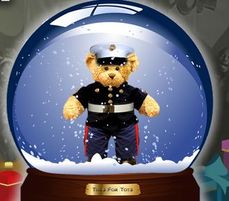 2013 Toys for Tots After Action Report

o Secured 40,000 sq. feet of warehouse space at no cost for the 2013 season
o Partnered with ABC7/WJLA-TV and News Channel 8

Virginia Bureau Chief Jeff Goldberg emceed one of our T4T events
Reporter-Anchor Kathy Park came to our warehouse and recorded a news story
Let's Talk Live had the girls that coordinated a bicycle drive for us as guests on their show to talk about Toys for Tots - Loudoun County and the history behind the bicycle drive

o Approximately 300 organizations/businesses signed up with us to be toy collection sites
o Ninety-seven (97) families signed up with us to receive toys
o Ten (10) non-profit organizations signed up with us to receive toys
o Approximately 313 volunteers helped us sort, distribute and pack toys
o We collected more than 26,000 toys; 900 books; and 4,400 stocking stuffers
o We distributed more than 24,000 toys; 900 books; and 3,400 stocking stuffers
o We served approximately 1,948 children (both directly as well as through non-profit organizations)
---