---
---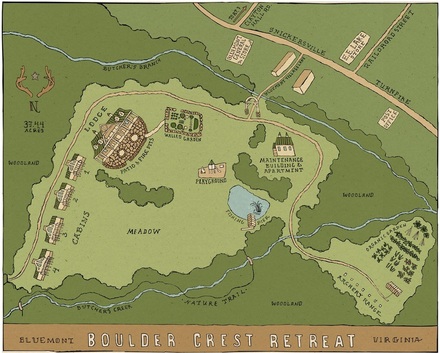 Boulder Crest Retreat for Military and Veteran Wellness is a country retreat providing free accommodations, activities, and programs for our nation's wounded military members, veterans and their families to relax and reconnect during their recovery and rehabilitation. The 37-acre rural retreat is located in Bluemont, Va. in Loudoun County, approximately 50 miles outside of Washington, DC. Boulder Crest Retreat is a 501(c)(3) nonprofit funded entirely funded by private donations and in-kind contributions coming from local and national corporations, non-profit organizations and private citizens.
Boulder Crest Retreat is founded on the premise that there is no greater duty as an American than to provide for those men and women who have given everything but their lives (mind, body and soul) to serve and protect us.
The retreat offers private accommodations and opportunities for adults and children to enjoy a variety of recreational and healing activities and resources to support healing and emotional well-being.
The ADA-accessible facility features four cabins, a large lodge, archery range, fishing pond, bird sanctuary, nature trail and children's playground. The retreat offers onsite activities such as yoga and meditation, fishing and nearby activities include swimming, kayaking, biking, golfing, equine therapy and horseback riding and hiking along the Appalachian Trail. The retreat also hosts group retreats, programs and life skills seminars on job-seeking, employment and entrepreneurship training, financial planning and counseling to assist veterans with their transition to civilian life.
Boulder Crest Retreat provides a supportive and healing environment for warriors and their families to enjoy time together away from the clinical settings and prepare for their future with a renewed sense of hope and newfound level of resilience and strength.
---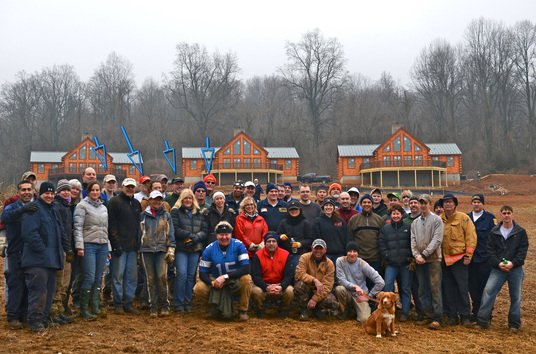 Volunteer
Boulder Crest Retreat offers Loudoun County Marine Corps League members and others the opportunity to be directly involved in contributing to the work being carried out by the Retreat.

Detachment members have participated in
numerous volunteer opportunities for the retreat including
brush clearing, cabin and lodge cleaning, and road guard duty at various events. It is a way for us to continue to carry out our mission to community, country and Corps. The arrows in the picture to the left show four of our members as part of a brush clearing crew.

To register as a volunteer and be notified as volunteer opportunities come open, go to this Boulder Crest page. On it is a form you can fill to submit your information.

To learn immediately of current Boulder Crest volunteer opportunities, go to this page. To the right of the page are the currently open volunteer opportunities. These change often, so check back regularly to see when there is something you can volunteer for to contribute to this fine operation.

Remember: Semper Fidelis.

---